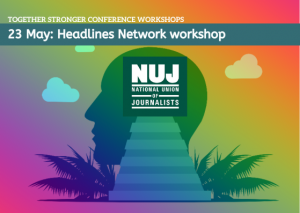 Headlines Network, a community for those who care about improving mental health in the media, is running a 90-minute workshop for NUJ-accredited journalists on Monday, May 23 at 7.30pm. The workshop will include tips, advice and insights around wellbeing in the workplace and will offer a space for a facilitated conversation with attendees.
The free session is being offered to freelance and staff journalists at all stages of their careers.
Headlines Network consists of founder Hannah Storm and fellow director John Crowley. Between them, they have significant experience in running media charities, newsrooms, facilitating industry conversations and working in journalism safety and mental health.
Headlines Network recently launched a suite of resources for journalists in an industry-first initiative with the mental health charity Mind.
The multimedia project, which is supported by the Google News Initiative, consist of two illustrative written guides – Managing Our Mental Health and Supporting Our Colleagues. Go to Headlines Network to download both guides. The materials are also supported with animated videos in which journalism colleagues share perspectives, tips and insights around mental health.
Storm and Crowley said: "We feel these resources will encourage our industry to take the steps it needs to address what we see as a real priority. If journalists are able to feel better…they can do their work better."
Headlines Network was founded in 2021 to improve conversations around mental health across the news industry. In late 2021, it ran a series of pilot workshops for 130 journalists, hosting sessions with newsroom leaders and on-the-ground freelancers. Colleagues on the programme said they urgently needed more practical tips to support their mental health.
**Please note this event is FREE to NUJ members only – £10 fee for non NUJ members**